Recognizing the accomplishments of women in science: A conversation with Ana Bolivar, 2021 WISE award winner
Adaptive Corporate Marketing and Communications​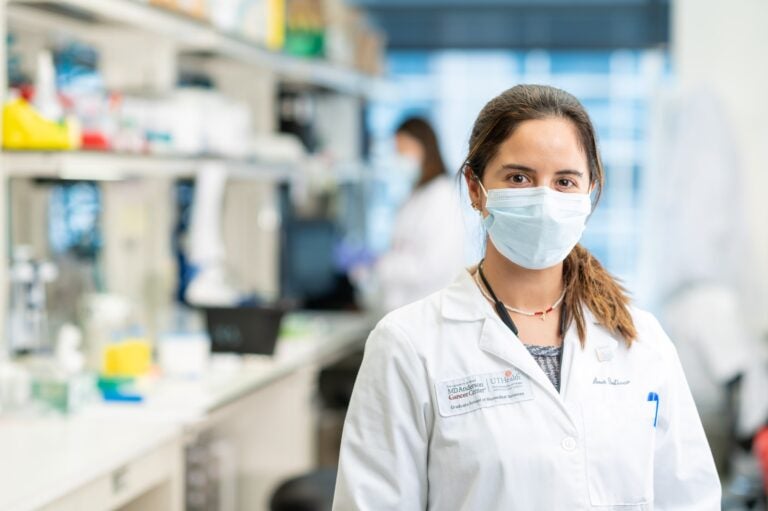 We recently spoke with last year's Women in Immune Science (WISE) award winner, Ana Bolivar, a PhD candidate in Dr. Eduardo Vilar's lab at the University of Texas MD Anderson Cancer Center who received a $15,000 grant from Adaptive to support her research. Ana's research focuses on Lynch Syndrome, an inherited cancer syndrome that affects >1 million Americans.
Ana spoke with us about the important role that T cells play in Lynch Syndrome and how she ultimately hopes that her work could lead to a T-cell-based biomarker for early cancer detection that would reduce the burden of invasive screening methods.
Adaptive Biotechnologies: How did you get interested in science, and what sparked your interest?
Ana Bolivar: It started when I was a kid. I come from a family where everyone has gone into science…In elementary school, I remember biology being my favorite subject and loving chemistry in high school. It's something that's been ingrained in me since childhood.
[My interest in immunology and cancer] started more recently when I started graduate school. I was a big fan of molecular biology…I realized that cancer was a bigger thing. When I started my PhD in the Vilar lab…he introduced me to this hereditary cancer syndrome in which patients have a higher risk of developing cancer compared to the general population. The tumors they develop produce higher levels of neoantigens—tumor-specific antigens that are ideal targets for T-cells to recognize cancer cells—kickstarting a strong anti-tumor immune response. So, the immune system plays a very big role during tumor development in these patients.
Adaptive: How are you using immunosequencing to better understand Lynch Syndrome?
Bolivar: We are interested in better understanding the role of immune cells in Lynch Syndrome and in using the immune system to improve the quality of life of these patients. [Patients with Lynch Syndrome] develop cancers at younger ages because they inherit mutations in the genes responsible for correcting mistakes made during DNA replication. They accumulate a lot of mutations, and the tumors that form produce a lot of neoantigens.
We take T cells from peripheral blood and sequence the T-cell receptors (TCRs) using the Assay. We also sequence the tissue of pre-cancers and cancers that develop in these patients. By matching the peripheral T-cell repertoire with that of the tumor, we hope to detect cancer-specific TCR signatures.
The long-term goal of this project is to develop a way to detect cancer earlier using T cells via a blood-based technique by sequencing the T-cell receptors to detect neoantigen-specific T cells. If we can develop a blood-based technique, it could offer a much less invasive way to detect cancer.
I'm excited about the idea that I'm potentially helping patients improve their quality of life, which we are already achieving in the lab. All the extra knowledge and molecular insights we are obtaining help us better understand the disease.
Adaptive: How has the WISE award impacted your research?
Bolivar: This award has helped us towards the sequencing of hundreds of samples, which is important because we are using machine learning. The more samples, the better.
Adaptive: Do you have any advice for other women in science?
Bolivar: There are two main things that have been important for me going into science. First, trust the knowledge that you have accumulated over the years. Don't be afraid to present your ideas. Show off that knowledge and be proud of it.  
Second, have a good support system, especially of other female scientists. I have been lucky to have great examples of women working in science in my family, at work, and at school. They all have played a big role in helping me to achieve what I have achieved so far.
For Research Use Only. Not for use in diagnostic procedures.
While the information is considered to be true and correct at the date of publication, changes in circumstances after the time of publication may impact on the accuracy of the information. The information may change without notice and Adaptive Biotechnologies is not in any way liable for the accuracy of any information printed and stored or in any way interpreted and used by a user.