Adaptive and Genentech collaborate to develop personalized cellular therapies for the treatment of cancer
Adaptive has partnered with Genentech, a member of the Roche Group, to develop, manufacture, and commercialize novel neoantigen directed T-cell therapies for the treatment of a broad range of cancers. We aim to build a transformational new treatment paradigm to tailor cellular therapy for each patient's individual cancer.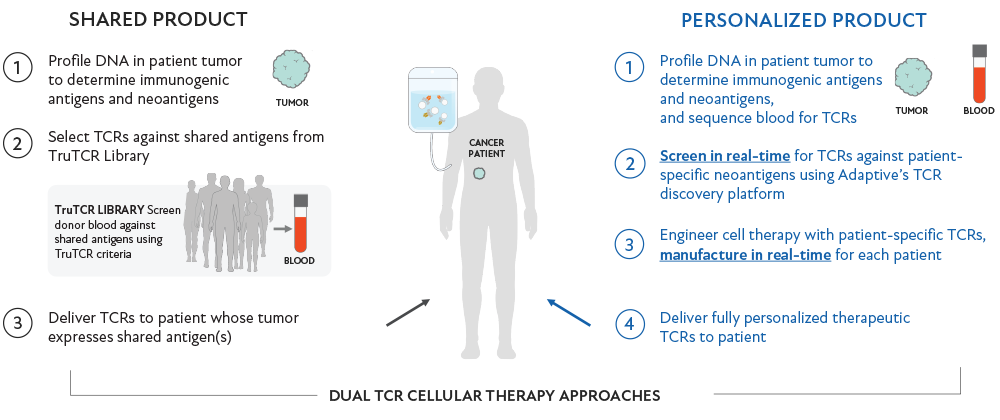 In this partnership, for a personalized product, Adaptive will screen and identify in real-time the best T-cell receptors (TCRs) targeting a patient's specific neoantigens. Genentech will use these patient-specific TCRs to engineer and manufacture a personalized cellular medicine and deliver it to each patient. The goal is to harness the vast majority of therapeutically relevant, patient-specific neoantigens and advance the next generation of cellular therapies in oncology.
The collaboration will also support the clinical development of "off-the-shelf" TCR-based cellular therapy shared products, where Adaptive will use its investigational TruTCR platform to screen and identify TCRs against shared cancer antigens from blood of healthy donors. Genentech will use these TCRs to develop and manufacture "off-the shelf" cell therapy products.
KEY TERMS:
T-cell: A type of immune cell that recognizes signals of disease, called antigens;
T-cell receptor (TCR): A protein found on the surface of T-cells that recognizes antigens;
Neoantigens: proteins generated by tumor-specific mutations not present in normal tissues.
Adaptive aims to use its immune medicine platform outside of this collaboration for the development of cellular therapies in other disease areas, including autoimmune conditions and infectious diseases. For more information: