A Reflection on Blood Cancer Awareness Month:
Patient Spotlight
Sarah Foster, Sr. Director Marketing, Oncology Diagnostics
As September and Blood Cancer Awareness Month wrap up, we want to reflect on a memorable conversation with Karen Thomas, a woman who received clonoSEQ® testing, and her physician, Dr. Hazma Hashmi, a hematologist-oncologist from the Medical University of South Carolina. At Adaptive, we know our diagnostic tests provide key information that help physicians and patients make treatment decisions, but we relish the opportunity to speak with them firsthand.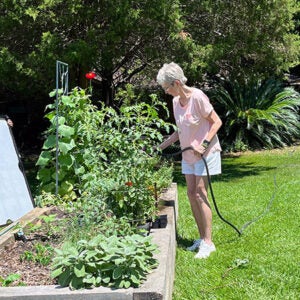 Karen is a blood cancer survivor with a zest for life — she is committed to patient advocacy and taking advantage of everything outdoors, including gardening, flyfishing and water sports. Prior to her diagnosis, she was a caretaker for her husband who is currently managing a rare blood disorder. Therefore, while familiar with doctor offices, she was not used to being the patient. That was until she experienced searing back pain in 2009 and the subsequent collapse of her spine. She was diagnosed with multiple myeloma (MM) and told she might never walk again.
Within a few months, Karen transitioned from an outdoor enthusiast to a debilitated "terminal cancer patient" with an estimated two years to live. With few options at the time, she decided to go through with chemotherapy, despite the toll it would take on her body. While successful, doctors told her she would have to remain on maintenance treatment indefinitely despite the slew of side effects; that is, until she met Dr. Hashmi about 10 years later.
After hearing Karen's story, Dr. Hashmi recommended Adaptive's Minimal Residual Disease (MRD) test (clonoSEQ®). With a negative result, they decided to alter her maintenance plan, which included eliminating chemotherapy. During our conversation with Karen, she told the Adaptive team, "You gave my life back to me."
As for general advice to people who receive a cancer diagnosis, Karen has several suggestions to help improve the patient care experience:
Conduct external research about doctors, and be intentional about choosing your provider
Expand your external research into learning more about your cancer and potential diagnostic and treatment options, including MRD testing
Ask questions to clearly understand all available options for care, and don't be afraid to seek out a second opinion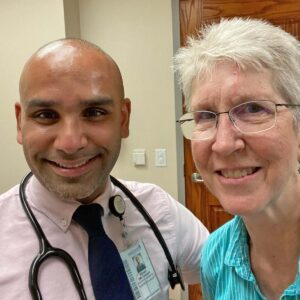 From a physician perspective, Dr. Hashmi emphasizes the need for more clinicians to understand the latest technologies in the fight against cancer, such as MRD testing. These innovative tools are only beneficial if doctors understand how they work and what kind of information they provide. Armed with this knowledge, healthcare providers may be able to consider current medical advancements while tailoring their treatment recommendation.
Today, Karen shares her experience to comfort and inform people who are living with blood cancer, along with their caregivers and families. For example, when she accompanies her husband to blood transfusion centers, she walks the halls and speaks to patients who are hesitant to receive bone marrow transplants. She listens to them, helps guide them and is a true testament to us all that a full life beyond a cancer diagnosis is possible.
clonoSEQ® is available as an FDA-cleared in vitro diagnostic (IVD) test service provided by Adaptive Biotechnologies to detect minimal residual disease (MRD) in bone marrow from patients with multiple myeloma or B-cell acute lymphoblastic leukemia (B-ALL) and blood or bone marrow from patients with chronic lymphocytic leukemia (CLL). clonoSEQ is also available for use in other lymphoid cancers and specimen types as a CLIA-validated laboratory developed test (LDT). For important information about the FDA-cleared uses of clonoSEQ including test limitations, please visit clonoSEQ.com/technical-summary
While the information is considered to be true and correct at the date of publication, changes in circumstances after the time of publication may impact on the accuracy of the information. The information may change without notice and Adaptive Biotechnologies is not in any way liable for the accuracy of any information printed and stored or in any way interpreted and used by a user.