Among Multiple Myeloma Patients Receiving MRD Testing, Majority Report Meaningful Benefits
Susan Bobulsky, SVP, Diagnostics, clonoSEQ
The uncertainty associated with a multiple myeloma diagnosis can often be deeply frightening. Many patients and their loved ones find themselves overwhelmed searching for information about prognosis and treatment. Others may feel anxious not knowing whether their treatment is working, or, if in remission, whether the cancer may come back.
This is why minimal residual disease (MRD) testing is so important. MRD testing can help to provide an accurate, ongoing picture of disease and risk status, offering a sense of control and comfort during a time when life may feel less manageable.
Adaptive recently supported a survey of multiple myeloma patients conducted by HealthTree Foundation (formerly Myeloma Crowd), to assess and learn from real-world patients about their current awareness, use, and perceptions of MRD testing. With this knowledge, Adaptive and HealthTree can ensure patients and clinicians are educated and supported to get the care they need.
The survey of 635 patients with multiple myeloma across the U.S. delivered a meaningful insight that cancer care providers nationwide need to know: The majority of myeloma patients experience both clinical and emotional benefits from MRD testing.
96% of patients who used MRD testing found the test useful.
81% of respondents said that MRD testing brought them comfort in their treatment journey by keeping them consistently informed.
78% of patients said that the results helped inform their provider's treatment decisions.
More than 90% of those who had MRD testing said they would recommend it to others.
These results affirmed the high value of MRD while underscoring the huge opportunity for more patients to benefit from MRD testing. Over half of all survey respondents were only somewhat or less familiar MRD testing. Furthermore, 99% of those surveyed who had not yet received MRD testing reported being interested in learning more about it.
Jenny Ahlstrom, a multiple myeloma survivor and founder of HealthTree Foundation, reflected on the survey results, stating, "Education is power. Patients need access to the most up-to-date information, including the most advanced diagnostics, to feel confident asking questions, making decisions, and speaking with their health care providers openly. The survey results show that more education is needed on this important type of useful testing."
We look forward to working together with HealthTree Foundation to identify more opportunities to expand education around real-time MRD testing with clonoSEQ® to both patients and physicians.
For those interested in learning more about the uses and benefits of MRD testing, visit https://www.myelomacrowd.org/myeloma or clonoSEQ.com.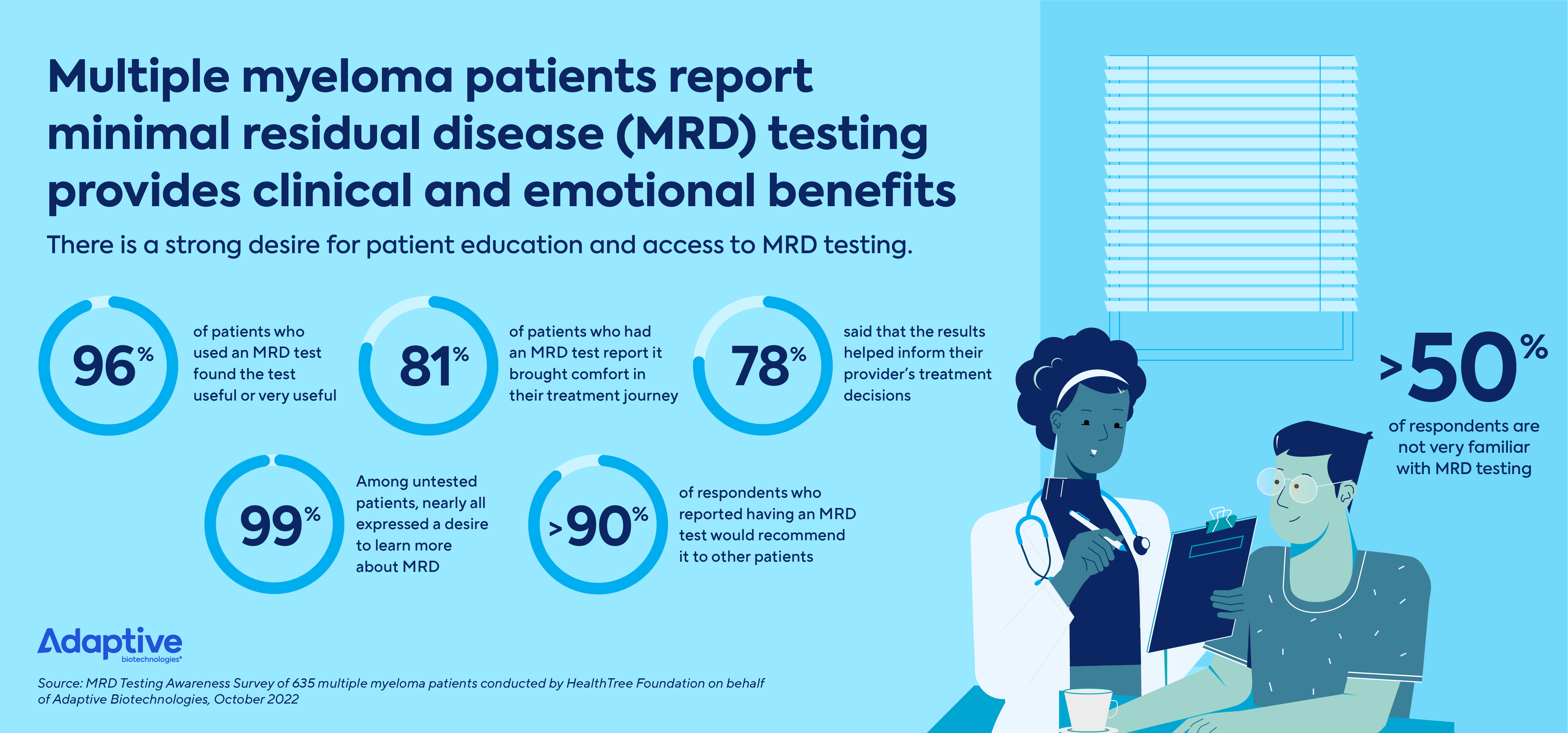 clonoSEQ® is available as an FDA-cleared in vitro diagnostic (IVD) test service provided by Adaptive Biotechnologies to detect minimal residual disease (MRD) in bone marrow from patients with multiple myeloma or B-cell acute lymphoblastic leukemia (B-ALL) and blood or bone marrow from patients with chronic lymphocytic leukemia (CLL). clonoSEQ is also available for use in other lymphoid cancers and specimen types as a CLIA-validated laboratory developed test (LDT). For important information about the FDA-cleared uses of clonoSEQ including test limitations, please visit clonoSEQ.com/technical-summary
While the information is considered to be true and correct at the date of publication, changes in circumstances after the time of publication may impact on the accuracy of the information. The information may change without notice and Adaptive Biotechnologies is not in any way liable for the accuracy of any information printed and stored or in any way interpreted and used by a user.