Hope restored: The critical role that Minimal Residual Disease can play in blood cancer patient care
Every March, people and organizations celebrate Multiple Myeloma Awareness Month – using their voices to raise awareness about efforts to diagnose, treat, and support patients with multiple myeloma as well as inspire others on their blood cancer journeys. Earlier this month, Adapters had the privilege of hearing from Tiffany Williams, a 55-year-old multiple myeloma patient. Tiffany is a retired pediatric nurse practitioner turned patient advocate. More than that – she's a mother, wife, sister, daughter and a fiercely supportive friend.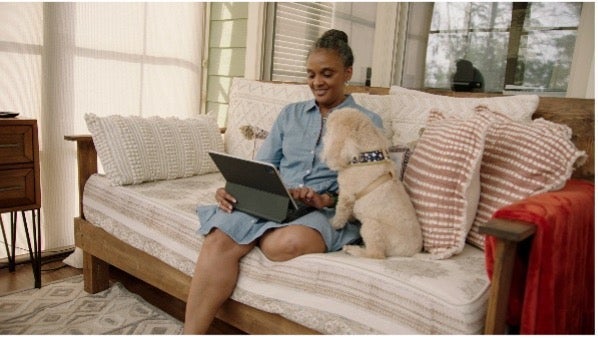 Nearly 10 years ago, Tiffany began experiencing back pain. The previous year she had been treated by a neurologist for a herniated disc, so she booked another visit. This time, things quickly turned serious when an MRI revealed lesions on her spine that had metastasized. Given her medical background, she knew the prognosis wasn't good and started to give up hope for her future. Within two weeks from the onset of her back pain, Tiffany was diagnosed with multiple myeloma.  
After meeting with a specialist, however, hope was restored. She was told, "It's incurable, but treatable." She held onto those words and embarked on an eight-month journey of induction therapy, including chemotherapy infusion and then a stem cell transplant. During that period, in many ways, her life stopped. She was suffering from extreme fatigue and had to take a leave of absence from work. As a result, she struggled with her loss of independence and identity. Her family became her caregivers, and she leaned on those closest to her to make major decisions. Her circle of friends tightened.  
In 2021, after more than six years of maintenance therapy, Tiffany's oncologist recommended minimal residual disease (MRD) testing – a test that measures the remaining number of cancer cells present in a patient's body during and after treatment that can lead to disease recurrence. By using this tool to gain real-time insight into Tiffany's disease status, her doctor was able to develop a personalized care plan for Tiffany that allowed her to feel informed in the face of so much uncertainty she had experienced throughout her cancer journey. Ultimately the results from the clonoSEQ® Assay confirmed she was MRD-negative, and her doctor told her she could safely discontinue maintenance therapy.  
Knowing that she was MRD-negative was truly freeing. For the first time in nearly a decade, she was able to take a deep breath, exhale, and enjoy the space she was in. Now, Tiffany can comfortably look forward to other monumental events in her life, such as her two children's weddings (and hopefully grandkids!), knowing that she is free of cancer.  
Tiffany offers this advice to other multiple myeloma patients: "If there was one thing I could share, it's to encourage them to not walk this journey alone. The path is so much easier when it's walked alongside others. Allow yourselves to lean into being vulnerable enough to release the stress, the pain, the anger, all those emotions, and allow other people to help embrace you through it. I have a village of friends and family who I can count on and rely on, and who give me hope and inspire me to be healthy and live." 
Adaptive is dedicated to recognizing patients like Tiffany and to contribute to the world's understanding of the critical role that MRD can play in blood cancer patient care.
clonoSEQ® is available as an FDA-cleared in vitro diagnostic (IVD) test service provided by Adaptive Biotechnologies to detect minimal residual disease (MRD) in bone marrow from patients with multiple myeloma or B-cell acute lymphoblastic leukemia (B-ALL) and blood or bone marrow from patients with chronic lymphocytic leukemia (CLL). clonoSEQ is also available for use in other lymphoid cancers and specimen types as a CLIA-validated laboratory developed test (LDT). For important information about the FDA-cleared uses of clonoSEQ including test limitations, please visit clonoSEQ.com/technical-summary
While the information is considered to be true and correct at the date of publication, changes in circumstances after the time of publication may impact on the accuracy of the information. The information may change without notice and Adaptive Biotechnologies is not in any way liable for the accuracy of any information printed and stored or in any way interpreted and used by a user.